Best of the Best from 2018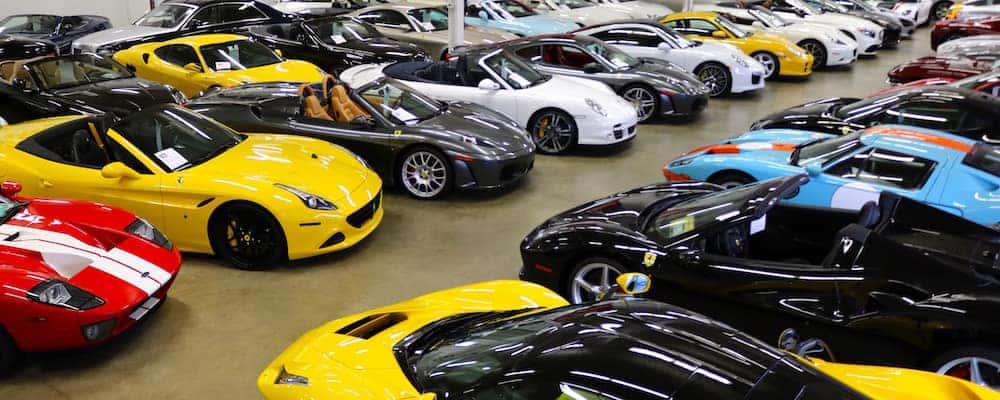 The year is winding down and it's time to reflect on all the things we have accomplished over the past 365 days. For us here at Marshall Goldman, we had another terrific year in sales, and we wanted to highlight 10 of our favorite cars that we have sold over the past 52 weeks.
#10, The 2019 Lamborghini Urus
A Lamborghini SUV was not something we ever expected to see in modern form after the "Rambo" LM002 from the 1980's. However, the trend of "Super SUVs" is here and this Lamborghini Urus was the first example we have had in. Wearing just 77 miles on its clocks when we had it, this Urus was literally brand new. The most impressive aspect of this car to us was its wonderful interior. We're sure Lamborghini will sell many of these "super-SUVs," and we were happy to offer this brand new car before most could get their hands on one.
#9, 4 Mile Corvette C3 Pace Car
We specialize in selling low mileage examples of cars, but when low mileage means having 4, yes FOUR, miles on the odometer, that surprises even us. This 1978 Corvette C3 Pace Car was an example of finding the lowest mileage example on the market. Although finding these cars with low miles is not uncommon, having single digit integers on their clocks is a rare sight. This example sold at auction during Monterey Car Week this past summer and globally represented possibly the lowest mileage C3 in existence.
#8, Apple Green Bentley
Bentley is known for making reserved, suave cars that are nothing if not discrete. However, this Candy Apple Green Bentley GTC Speed not only broke the mold, it blew it to smithereens. Although this car may not be everyone's taste or even considered collectible, it is undoubtedly unique. Over its time here, it wormed its way into each of our hearts, and we are happy that it's new owner is enjoying it in the Florida sun; talk about the perfect car for the perfect place.
#7, Trio of Ford GTs
Although not all sold at the same time, we purchased this trio of Ford GTs in the spring. The total mileage on all three did not exceed 2,000 miles. The Ford GT has received its much deserved attention in the collector market over the past several years, and these three are certainly the most desirable color combinations. 

The standout of the group was the 25 mile Gulf Heritage Edition, one of the lowest mileage examples known today. The Ford GT is one of the best driving cars of the 2000s and it is easy to see why they are continuing to appreciate in value. If you have the means to pick one up, we cannot recommend it enough. Check out this other Gulf Heritage GT we have currently in stock.
#6, Lamborghini Aventador SV

Another car from the Lamborghini fleet that graced our showroom was the Aventador SV. We made an appearance with this car and several others at the Molto Bella car show in Akron, and what a splash it made. 600 examples were produced for sale, and it remains one of our favorite cars from Lamborghini in the past 20 years. The most distinct aspect of the car is that glorious 6.5L, 740hp V12, easily one of the most incredible Lamborghini has ever made. Fast, loud, and crazy, it distills everything a Lamborghini should be, and we hope its new owner enjoys it as much as we did.
#5, Porsche 918 Spyder Weissach Package
The Porsche 918 has been a favorite car since its release in 2015. Having sold many, we're accustomed to how amazing this car is. However, this particular Weissach Package car was positively sensational. Spec'd in Pewter Silver over a black and acid green interior, example number 407 earned a special place in our memory. There is something about an extreme hyper car in a subdued and subtle color combination that suits this car incredibly well. Moreover, the über special paint work really came to life in different lighting situations, making this 918 an absolute knockout. All of these elements rightfully earn this 918 a place on our list of favorite sales from this year.
#4, Ferrari 599 SA Aperta
Although the Ferrari 599 SA Aperta remains one of the rarest modern Ferraris to pass through our inventory, this one stood out on its own merits thanks to its gorgeous specification. Painted Avio Metallic over a Crema interior, this stunning car was not here for long. Complete with its luggage and just under 1,000 miles, it was the perfect example of a collectible, modern Ferrari. We have sold several SA Apertas in the past, but this particular specification really stood out to all of here at the dealership as being very special. As a result, this car easily deserves its place on our list as one of the most memorable cars we sold this past year.
#3, Porsche 964 "Flachbau" Turbo S
There's collectible and then there is the Porsche 964 Turbo S 'Flachbau.' Just 76 'Flatnose' cars exist in the entire world. Only 39 came to the United States, making the Flatnose one of the most rare and collectible Porsches of the modern era. In addition to the obvious front end styling revisions, the car received the X88 package 'S' engine. This S-spec engine received a modified cylinder head, new cam shafts, an uprated turbo, revised intake manifold, and revised valve timing resulting in an output of 385hp and 384ft/lbs of torque. This car is a must-have among Porsche collections, and we were happy to find a good home for this example.
#2, Lamborghini Reventón
Certain cars make headlines when they are released from manufacturers. For Lamborghini fans, during the 2000's there was only one champion poster car, the Lamborghini Reventón. Each example of the 20 coupes made for the world is special. However, our example was the final example of the run, number 20/20. Adding to its collectability, somehow its previous owners mustered the self-control to only rack up 168 miles on its clocks, making it one of the lowest mileage examples of this fabled supercar. Number 20 left our facilities in November for a collection in Hong Kong, and we hope its new owner loves the car as much as Lamborghini fans the world still do.
#1, Ferrari La Ferrari
Easily the king of the showroom for its tenure here, the number one position on our list of cars that passed through the dealership goes to our yellow La Ferrari. One of just 499 made for the world, a La Ferrari is the ultimate expression of a modern hypercar anyway, but one that isn't red is even more special. This car was also notably at the Molto Bella car show in Akron and it certainly stopped the show. Having sold two of the holy trinity of supercars in the same calendar year is a special thing, and we are happy to highlight this car on this list.
What cars from our showroom would you take home to Cleveland in the New Year? Let us know, and keep an eye on the site by clicking here for more remarkable inventory. From all of us here at Marshall Goldman, Happy New Year!