The 2019 Marshall Goldman Recap to the Arizona Auctions
Arizona Auction Week has come and gone, and we were excited to see what numbers came out of the start to the 2019 auction season. Overall, we were able to draw a few conclusions from what we saw in Scottsdale this past January.
To begin, we are seeing a boost in bidding among cars under $250,000 at events like Barrett Jackson. This is a growing segment of the market, and it is gaining traction at every auction event we attend.
Secondly, vintage-inspired, professionally built Resto-Mods are gaining popularity again among younger generations, a trend that has run hot and cold during the last decade.
Finally, 1980s and '90s modern classics are starting increasingly intense bidding wars on the block as a younger generation gains buying power.
Here are some of the top numbers and highlights from three major Scottsdale auctions: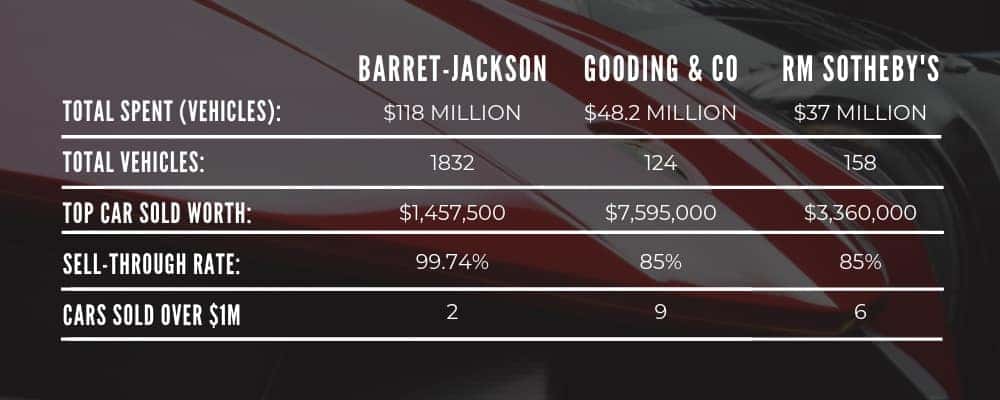 Barrett Jackson
We had a great time at this year's Barrett Jackson event, which turned out to be the biggest one to date. As always, classic muscle cars are holding strong and showing solid value growth. Additionally, the auction has seen a steady increase over the past two years in both the number of customs and Resto-Mods on the docket and their average value per sale. This year, there were 161 custom vehicles on the docket, an 87.2% increase over the lots available in 2017. As for their sale prices, that number has risen over 27% from an average of $62,711 in 2017 to just over $80k this year.
The top two cars sold at Barrett Jackson this year went to a 2019 McLaren Senna (selling for $1,457,500) and a 2014 Mercedes-Benz G63 6X6 (hammering for $1,210,000).
For more of our coverage on this year's Barrett Jackson auction, check out our round-up guide to the 2019 Scottsdale event.
RM Sotheby's
RM Sotheby's 20th annual Arizona auction took place in Phoenix from January 17–18. The sale raised more than $37 million in two days, with a couple top Ferraris captivating the collector audience. One of the most notable sales from the weekend went to a Classiche-Certified 1967 Ferrari 330 GTS, which hammered at an impressive $2,012,500.
In other RM Ferrari news, one 1971 Ferrari 365 GTB/4 Daytona NART Spider sold above estimate at $670,500 (Estimate: $600,000–$650,000) and one other 280-mile 2017 Ferrari F12 TDF with an unusual spec of Grigio Titanio over a two-tone blue interior sold for a $1,006,000 total.
Overall, the event had its highest bidder turnout in more than five years, which is an excellent indicator for the health of the ultra-high-dollar collectible car market.
Gooding & Company
Gooding & Company's $48-million auction echoed the health of the collector car industry. The top car at this show far exceeded the sale price at any of the other shows we attended. A 1963 Ferrari 250 GT SWB Berlinetta sold for $7,595,000, the top car of the entire auction week.
The second and third top cars of the week were also sold at this event. The number two slot went to a 1958 Ferrari 250 GT TdF Coupe (which sold for $5,890,00) and a 1953 Ferrari 250 MM Spider (which sold for $5,395,000).
The next Gooding & Company auction is the highly anticipated annual auction at Amelia Island in Florida on March 8. Stay tuned for more coverage of that event from Marshall Goldman this month.
Not Done Looking at Cars? View Our Latest Inventory
Check out what we have in stock for more pictures and spec of used luxury and collectible cars for sale from our latest inventory. For more info on cars, market analysis, and upcoming events in the classic and luxury car industry, follow our blog at MarshallGoldman.com.