The Definitive 2019 Barrett-Jackson Scottsdale Round-Up
With more than 1,800 cars sold worth over $118 million in sales, the 2019 Barrett-Jackson Scottsdale auction event went down in history as the largest No Reserve collector car auction held to date. And when you tack on charity sales to the Arizona Auto Week event, the auction total increases to over $131.6 million in vehicle sales over one week alone.
---
Skip to section:
The Top
The Bottom
The Most Hyped
The Event
2019 Yearbook
---
Amongst all the money, bidding and hype, we were able to pull out a couple of the major trends emerging from this year's crop of cars.
We saw a boost in bidding among the more affordable cars (or at least the models under $250,000).
Modern supercars aren't going anywhere. They continue to pull the highest realized values, year after year, including this year's top car, a 2019 McLaren Senna.
Vintage-inspired, professionally built Resto-Mods are gaining popularity again, particularly among younger generations, a trend that has been hot and cold during the last decade.
For classic and Resto-Mods, 1960s muscle cars are strong as always, and 1980s and 90s styles are starting bidding wars on the block.
Routine market indicators of the classic car market's health (such as 1960s Chevrolet Corvettes) were stable, which is a good sign. Other Reto-Mods and vintage models, notably pickups and SUVs, saw some price growth this year and may continue to go up in value if market trends continue.
---
The Below Chart Shows how this Year's Numbers Stack up to Last Year's:

---
The Top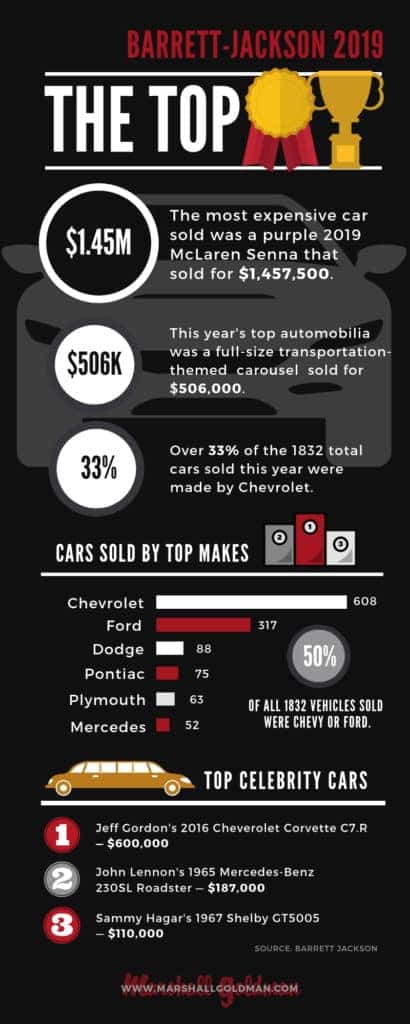 We saw several surprises this year, but overall the most intense bidding wars were over cars with sale prices less than $250,000.
As always, classic muscle cars are on the upswing. In addition to that, though, Resto-Mods are also seeing higher demand among car auction buyers. According to Barrett-Jackson, the auction has seen a steady increase over the past two years in both the number of customs and Resto-Mods on the docket and their average value per sale. This year, there were 161 custom vehicles on the docket, more than 87.2% more than the number available in 2017. As to the sale prices, that number has risen over 27%. In 2017, they drew an average of $62,711, which this year jumped to just over $80k.
younger buyers have latched on to the idea of pairing classic styling with the modern advances in power and tech.
Resto-Mods and customs were first added to the Barrett-Jackson roster in 2002, which at the time drew plenty of criticism. Today, attitudes have shifted, and younger buyers have latched on to the idea of pairing classic styling with the modern advances in power and tech.
Some of the best cars in this category brought in more than six-figures on the block. Lot #1330 was just one example of this. The 1963 Chevrolet Corvette Split-Window Custom Coupe hammered at $385,000 in this year's event.
Moving on to style, according to Hagerty (the industry's leading classic car valuer and insurer) millennial buyers are nearly 30% more likely to get a quote for a truck or an SUV than the older generations, including baby boomers.
Below are some of the top standout sales at this year's auction:
One 1961 Ford F-100 pickup (Lot #213) was sold for $88,000, which is more than 640% above the Hagerty Price Guide value for the truck.
One 1989 Ford Mustang LX Hatchback (Lot #859) sold for $42,900, which is about 280% above Hagerty Price Guide value for the model.
A new host of younger buyers also brings attention to modern classics (such as a 2001 Lamborghini Diablo 6.0). This is where we see opportunity as many of these modern classics have not yet risen to the blue-chip status of many of the best cars from the 1960s have. Millennials have identified this opportunity.
"The skyrocketing number of millennial and Gen-X buyers demonstrates how vibrant and exciting it is to be at Barrett-Jackson for all generations." – Craig Jackson, chairman and CEO of Barrett-Jackson.
Top Cars Sold (excluding charity cars) at the auction:
2019 McLaren Senna (Lot #1405) – $1,457,500
2014 Mercedes-Benz G63 6X6 (Lot #1410) – $1,210,000
2012 Lexus LFA Nürburgring Edition (Lot #1412) – $918,500
2005 Saleen S7 Twin Turbo (Lot #1415) – $550,000
2006 Ford GT Heritage Edition – 3,092 actual miles (Lot #1313) – $533,50
2006 Ford GT Heritage Edition – 288 actual miles (Lot #1376) – $495,000
2006 Ford GT Heritage Edition – 77 actual miles (Lot #1406) – $462,000
1967 Ford Mustang Custom Fastback "Gone In 60 Seconds" Eleanor (Lot #1437) – $385,000 / 1963 Chevrolet Corvette Split-window Resto-Mod Coupe (Lot #1333) – $385,000
2011 Porsche 911 GT2 RS (Lot #1409) – $363,000 / 1955 Chevrolet Bel Air Custom Convertible (Lot #1371) – $363,000
2001 Lamborghini Diablo VT (Lot #1416) – $352,000
---
The Most Hyped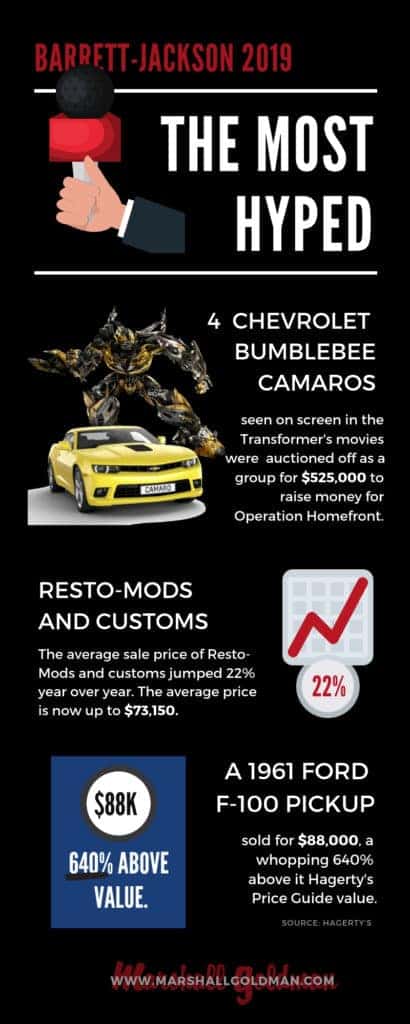 Overall, we were looking out for a couple of heavy-hitting sellers this year. We were excited to see the 2019 McLaren Senna, which was one of only 500 built, and one of about 120 in the United States. The one sold this year was only the fifth car produced. This showstopper is said to do 0-62 mph in 2.8 seconds.
the market recognizes how important this McLaren is and agrees that it deserves the Senna nameplate
When we saw that McLaren named its newest car after one of F1's legends, we were very skeptical that it would live up to that reputation. However, the McLaren Senna delivers the goods thanks to its 4-liter, twin-turbocharged V8 making 789 horsepower and 590ft/lbs of torque. The design brief for this car was completely uncompromising, just like its namesake. It's clear that the market recognizes how important this McLaren is and agrees that it deserves the Senna nameplate.
One of the most-talked-about collections at the show included the four Chevrolet Bumblebee Camaros seen in the Transformers movies. The cars were on display at week were sold as a group for $525,000 to benefit Operation Homefront.
The 2020 Toyota Supra — First Production VIN 20201 (Lot #3010) was another buzzworthy car. The first of its kind, this vehicle drew a whopping $2,100,000 to benefit the American Heart Association and The Bob Woodruff Foundation. When it is released to market, it will live within the $60,000 range. This one came with a matte gray exterior, red mirror caps, matte black wheels and red interior and include an engine cover signed by Toyota CEO Akio Toyoda.
One particular car that we knew was coming, thanks to the amount of press it received before and during the auction, was lot #1349, the Lamborghini "Tractorri" Custom Coupe. This interesting car came about in a Frankenstein-type effort to mesh two things together. The Tractorri Lambo-Stang has the 8,000 rpm power of the 5.0-liter V10 and automatic e-gear all-wheel-drive system of a 2009 Lamborghini Gallardo, wrapped up nicely into the body of a 2007 S197 Ford Mustang GT. Somebody spent more than $700,000 stitching this thing together. But crazy as it all may seem, this one certainly caught our eye.
Trend Report
Resto-Mods and customs were talked about heavily this year. Throughout Arizona Car Week, the average sale price of Resto-Mods and custom vehicles increased 22 percent year over year, according to Hagerty. The average price is now up to $73,150.
The Ford GT Gulf Heritage Edition received its share of the spotlight with several GT43 examples crossing the auction block. The new Ford GT Gulf Heritage serial number 001 also went under the hammer for charity raising $2.5M. Even 50 years after its release, the Gulf Racing color scheme is still one of the most desirable paint schemes in the paddock.
One of our favorite picks to watch in the future goes to Lot #1412, the Lexus LFA Nurburgring Edition. Being 1 out of just 50 makes it a special car that is sure to make headlines again at later shows. These cars are inching closer and closer to the $1M mark as time goes on, and we think they deserve to be there.
---
The Bottom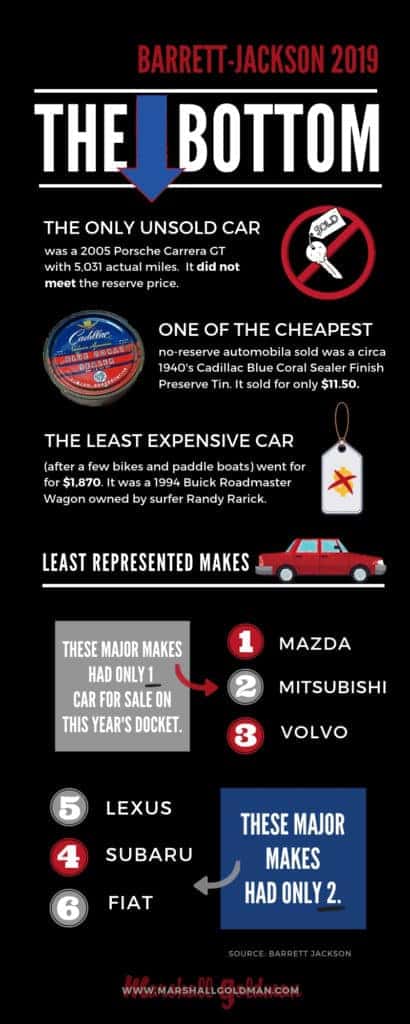 With as many winners as we saw this year, there must also be some stuck at the bottom, whether they belong there or not.
Auction analysis has shown that this year, top-dollar bidders weren't willing to settle on anything less than flawless collectors and supercars. Top bidders were more hesitant this year than we've seen in the past.
At all auctions among Arizona Auction Week, the sell-through rate of cars above $1 million was 48% compared to the overall 81% of all total cars.
cars above $250,000 have stalled slightly and could use a boost
According to Hagerty's, the auction market for cars above $250,000 has stalled slightly and could use a boost. More modest bidders picked up all the slack to make for this year's successful totals.
At Barrett-Jackson, only one car did not sell. A 2005 Porsche Carrera GT (Lot #1414) failed to meet its reserve price. The vast majority (all but three) Barrett-Jackson cars had no reserve and had to sell on the block.
Of the cars that did sell, a couple big names hammered in way under the expected sale price. One car auctioned for a steal was a 1998 Ferarri F355 Spider (Lot. 1617) in classic Rosso Corsa over tan leather. Fully serviced and complete with the gated 6-speed manual, this car sold for $63,800, a full $20k less than expected.
Another great buy was lot number 1435, a fully optioned 2011 Lamborghini Gallardo Superleggera finished in Arancio Borealis. It hammered for $134,200, a steal for the performance and rarity this coffer offers.
Although Arizona Auction Week as a whole was considered a mostly successful year, market analyzers have discussed the effects of the prolonged government shutdown and the uncertainty of future tax changes and interest rates as a possible cause for a slight lag in bidding.
On a less serious note, we did some math with the auction data to find out exactly how many cars from each make were represented this year. What we found is that more than half of all of the cars sold at this year's auction were made by either Chevrolet or Ford. That could be true for any number of reasons (one being the obvious popularity of classic Chevrolet and Ford cars from the golden decades).
But on the reverse, all those Chevys and Fords means some other makes had less time on the block this year. Out of the more than 1800 cars sold, Mazda, Mitsubishi and Volvo had only one vehicle represented on the docket. Fiat, Subaru and Lexus had only two (although one of the Lexus' sold went for more than $918,000).
And, just for fun, here is a list of a few of the least expensive cars that sold at this year's auction:
1994 Buick Roadmaster Custom Wagon (Lot #314) – $1,870.00
1978 Oldsmobile Delta 88 Royale Sedam (Lot #2) – $2,200.00
1981 Honda Gold Wing GL1100 Motorcycle (Lot #101) – $2,750.00
1953 Cushman Allstate Scooter (Lot #1501) – $2,970.00
1979 Chevrolet G20 Custom Van (Lot #909) – $3,300.00
---
The Event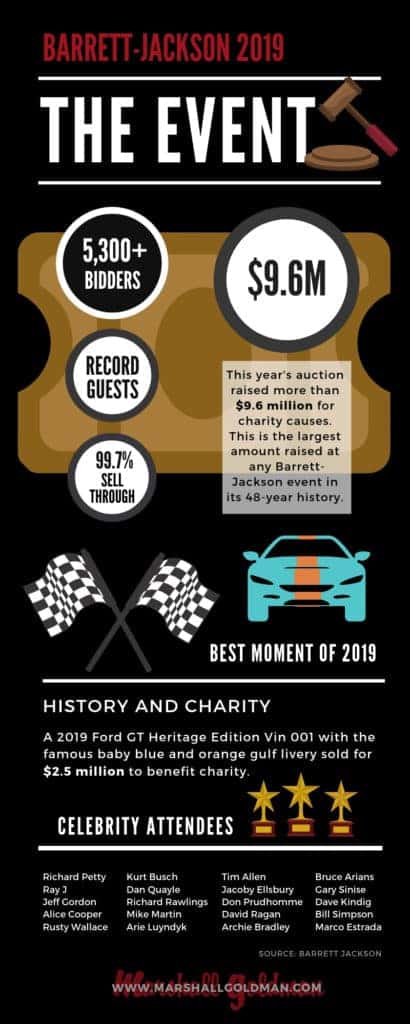 This year's event was a massive spectacle, worth the $80 admission price for a Saturday ticket.
The 2019 auction saw a record number of guests… more than 5,300
The weeklong event began Jan 12th and ran through the 20th. The 2019 auction saw a record number of guests and set a new record for bidders (more than 5,300 this year).
To add to the excitement, several racing and pop-culture celebrities bought and sold cars, including Emmy and Golden Globe Award-winner Gary Sinise, singer/songwriter Ray J, and NASCAR Hall of Famers Jeff Gordon and Richard Petty. Alice Cooper, Tim Allen and other celebrities were also seen at the show.
This year's show raised a record amount of money for charity off the sale of 13 cars. To date, Barrett-Jackson has raised over $114 million for charity, with more than $9.6 million this year alone.
The 2020 Toyota Supra — First Production VIN 20201 (Lot #3010)  (The first of a new generation of Toyota Supra) raises $2,100,000 for American Heart Association and The Bob Woodruff Foundation.
The buzzed-about Transformers Camaros were also sold for charity as a group, totaling $525,000 in donations for JDRF, a diabetes research and advocacy group.
The most notable charity sales included:
2019 Ford GT Heritage Edition VIN 001 (Lot #3012) – $2,500,000 benefiting United Way for Southeastern Michigan
2020 Toyota Supra – First Production VIN 20201 (Lot #3010) – $2,100,000 benefiting the American Heart Association and The Bob Woodruff Foundation
Chevrolet Bumblebee Camaro Collection (Lot #3009), (Lot #3009.1), (Lot #3009.2) (Lot #3009.3) – $525,000 benefiting Operation Homefront.
2020 Ford Mustang Shelby GT500 VIN 001 (Lot #3008) – $1,100,000 benefiting JDRF
Jeff Gordon's 2016 Corvette C7.R (Lot #3007) – $600,000 benefiting the Jeff Gordon Children's Foundation2015
Ford Shelby Mustang GT350R (Lot #3006) – $500,000 benefiting the Petersen Automotive and Henry Ford Museums
This particular annual event specializes in moving a massive quantity of lots largely focused muscle and American cars, which is part of the reason it gets so much attention compared the other notable auctions that occur during Arizona Auto Week.
The next major Barrett-Jackson auctions will be held in Palm Beach, FL in April, Connecticut in June and Las Vegas in April. Visit the Barrett-Jackson website for advance tickets and information on the event.
For more info on cars, market analysis and upcoming events in the classic and luxury car industry, follow our blog at MarshallGoldman.com.

---