What Makes Porsche Special?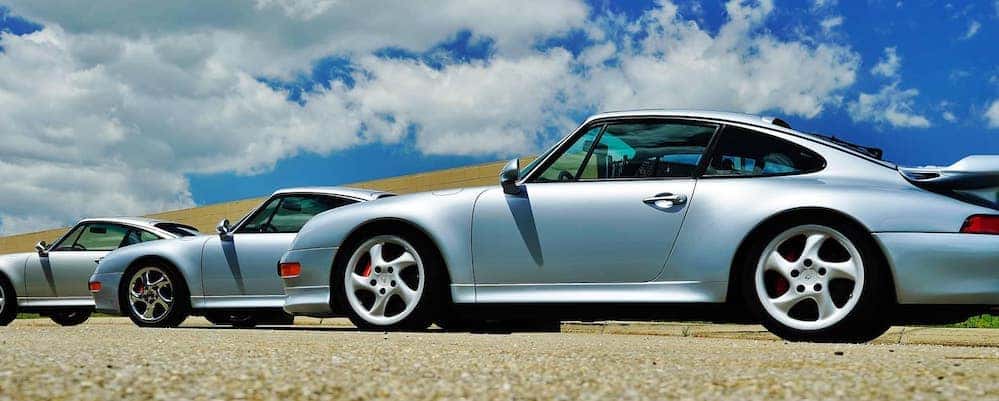 Porsche has a long standing reputation in the automotive world. This reputation has been garnered through a strong dedication to Porsche tradition, combined with a drive for innovation, performance, and impeccable design. Now, in 2018, as Porsche celebrates its 70th anniversary, we thought it was the perfect time to reflect on exactly what sets Porsche apart. Let's take a closer look at what Porsche does that makes their vehicles so unique and their owners so adamant about their quality.
Design: Where Form Follows Function
A Porsche is one of the most recognizable vehicles on the road. Whether it's the flagship Porsche 911 or the sleek and powerful Panamera, you know a Porsche when you see one. From every angle, Porsche vehicles catch your eye. Over time, the designers at Porsche have developed, refined, and perfected this unique design which is reflected in such defining features as:
The swooping roofline that gives Porsche the sharp, aerodynamic look
Broad shoulders and contours that help accentuate the wheels
An aggressive air inlet in the front, rather than a radiator grille
Forward thinking technology that seamlessly integrates into the design
Porsche vehicles are taken through rigorous testing on and off the track and in the wind tunnel. Form following function is an integral part of the Porsche philosophy. Only when the advanced mechanical technologies blend perfectly with the desired form of the vehicle does the trademark Porsche design show itself. It's not just the design that sets Porsche apart, however. It has just as much to do with the performance, drivability, and adaptability.
A Daily Driver With the Heart of a Race Car
Each and every Porsche is designed to perform like a sports car. Tested on the racetrack, you'll feel the optimal performance and power on the streets. Porsche vehicles are incredibly responsive and offer superior handling. This can be attributed directly to the race car heritage that exists in each one. From track to street, you can expect to find fantastic performance and drivability thanks to features like:
Advanced supercharged engines that offer higher torque and power, better fuel economy, and even reduced emissions costs
The Porsche Composite Ceramic Brakes grant massive weight reduction when compared to iron discs as well as high temperature capabilities. These internally ventilated brakes offer superior protection against corrosion and dust build-up, help extend maintenance intervals, and are recognized by their signature yellow calipers
Driving mode selection allows the driver to choose the perfect driving mode for them. Choose between up to six driving modes, including Hybrid mode for a more efficient and contained ride, or Sport Plus mode to unleash the fury of the supercharged Porsche engine
For a lighter and more nimble drive, Porsche vehicles have select parts built from carbon fiber reinforced polymers. This saves on overall vehicle weight while also allowing the vehicle to have more control when cornering
Because every Porsche is a race car at its heart, you can feel the excellent handling and performance when you drive one. Whether you're taking a corner at high speeds or just out on the open highway, Porsche vehicles feel and move like nothing else. No matter which model you choose, from the legendary Porsche 911 to their family friendly SUVs, you'll experience a brand that performs.
Find Rare and Exciting Porsche Models at Marshall Goldman Motor Sales
We pride ourselves on providing the best inventory of collectible and exotic cars on the market. We would love to help get you into the Porsche of your dreams. From New York to Dallas, our Nationwide Delivery will ensure the perfect model finds its way to you. If you have any questions or concerns, please do not hesitate to contact us today.
More From Marshall Goldman
Thousands of deep-pocketed car collectors, enthusiasts, and fans flocked to the Monterey Peninsula this past month to gush over vintage racing relics, and have their eyebrows raised by the newest automotive artworks. The car craze kicked-off on August 9th, and concluded with the traditional grand finale of the Pebble Beach Concours d'Elegance on August 18th….

Young drivers have a wide range of likes and preferences in the car they drive. While one might prefer a more compact roadster, another may want a four-door sedan with all the 21st-century bells and whistles. What most young drivers can all agree on when buying a luxury car is that price is important. While…

The sun's out, the top is down, and you're coasting down a long and winding road. You're behind the wheel of a 2020 Lamborghini Huracán. Life is good. You feel the warm rays against your face as you enter a straight away. You decide to open the throttle and let the 5.2-liter V-10 engine loose….